Finally, a local patio builder you can trust, To build you A High-Quality Australian Made Patio for a fair Price!
Get Your Patio Quote Right Here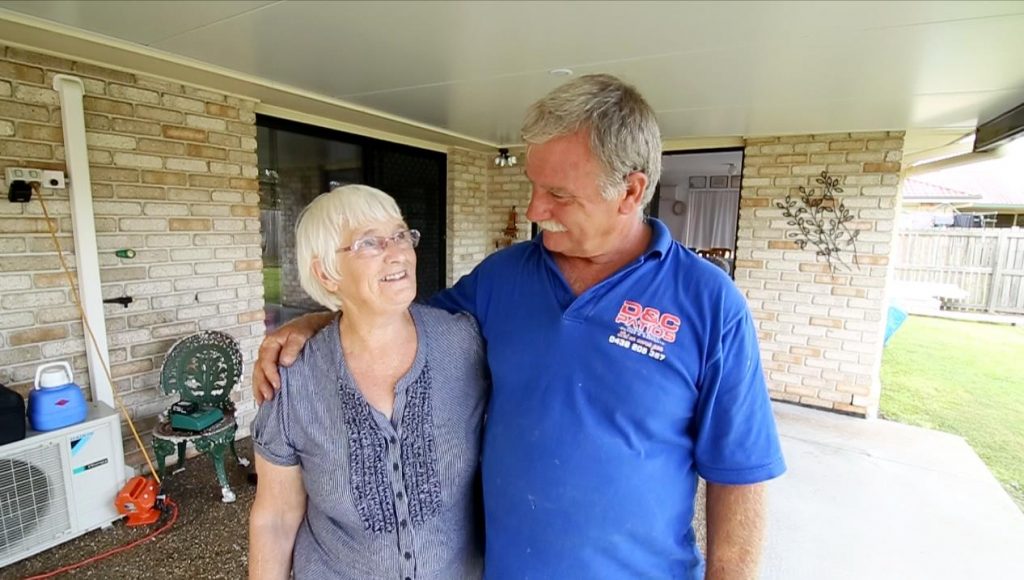 Meet Glenn Shefford. Founder of D&C Patios! This is his story...
When qualified carpenter, Glenn Shefford, built his first patio, he knew he had found a niche in the market.
Providing high quality structures made from quality, local materials, his locally owned and operated patio building business was able to provide a premium service, at a very competitive price.
And it was this exceptional customer service that enabled his business to grow from a one-man operation in 1997, to the #1 Patio Builder in South East Queensland and Northern New South Wales.
Dedicated to ensuring personalised and professional service throughout every stage of your patio project, Glenn has maintained a 'hands on' approach to his business and will personally handle your quote.
Glenn and his team are highly experienced and skilled, and will make sure that your new patio, pergola or carport exceeds your expectations.
D & C Patios construct innovative building solutions, including insulated patio roof covers, pergolas, and 'attached' or 'free standing' carports and decks.
Our design consultants and builders will create an outdoor structure that works for your home and your budget – utilising the latest designs, construction methods and materials.
Your new outdoor living space will be beautiful, functional and yours to enjoy for many years to come!
As one of the leading patio and carport builders throughout the Tweed Coast, Gold Coast and Brisbane, we're committed to ensuring the highest standards of customer service.
Our custom patio designs and extensive building expertise… allows us to cater to your exact requirements. With modern colours and exceptional designs, our structures will enhance your outdoor lifestyle – as well as improving the look and value of your home.
HIGH-QUALITY PATIOS AT A FAIR PRICE
D & C Patios was established 22 years ago and is one of the oldest and most trusted companies around today.
We've developed a highly skilled, hard-working team who take immense pride in their work. Everyone in our company – from our builders to our office staff – are reliable and professional. And, we're as passionate about improving your outdoor area – as you are!
We strive to maintain the highest standards and quality, when it comes to the building process. We ensure full compliance for your project and meet all the necessary engineering, council and QBCC building standards of Australia.
From your first contact with us, we'll take you through the process 'step-by-step', until the successful completion of your designer built addition.
We understand your project is a big investment; a new patio, deck or carport requires time, money and emotion.
With so many things to consider, it's great to know that our staff are here for you – from start to finish. And with our 15 year manufacturer's warranty, you'll enjoy complete peace-of-mind.
As a professional carport, pergola and patio building company that looks after clients across Brisbane, the Gold Coast and Northern NSW, we take great pride in all of our work.
More than anything, we want you to have confidence in our company and your investment. We want you to love your new patio, pergola or carport as much as we do.
OUR GUARANTEE TO YOU
We provide all of our customers with the D & C Patios Guarantee:
The best materials solutions for your specific project, backed by warranties and our integrity. Our commitment to you is to cover any issues under the warranty, which may arise once your project is finished.
Transparency, open communication updates via email or phone throughout the entire process, from the design process through to completion.
You'll have our commitment to creating an outstanding outdoor space for your friends, family and loved ones.
What others say about Glenn
Here's what other say about us...
D & C Patios were excellent to deal with, Glenn explained everything from start to finish, very thorough and excellent tradesmen that took pride in their work & a great bunch of guys. Totally transformed our drab backyard and old pergola into an entertainers dream. Would highly recommend. Thanks again guys Happy customers Vicki & John
Love our new carport and the professionalism from the company, start to finish, was awesome. Kudos to the hardworking fellas that installed it on one of the hottest days of summer, great job guys!
I couldn't be happier with the overall package D&C Patios delivered. From the minute we met Steve to quote the job until the last Tradie left, the outcome was better than we could have ever imagined. Thank you to the entire team at D&C for creating a space we love!!!
From the first call to book a quote to the final signing off,you guys were amazing,prompt and value for money.everyone loves the final product and can't wait to use it,thanx very much
We are very happy with the standard of our patio. We were kept updated throughout the whole process and all our queries were answered quickly. Would highly recommend D & C Patios.
From the first call to book a quote to the final signing off,you guys were amazing,prompt and value for money.everyone loves the final product and can't wait to use it,thanx very much
D & C patios are awesome to work with, They provide all the correct documents upfront for approvals very efficient and when there are issues the staff just get the job done. Really impressed with the team and the quality of there work.
We have just had our patio finished by the team at D&C, this whole experience was first class, from the first meeting with Glenn it was a relief to deal with a builder who's been there and done it instead of a sales person who was a deer with no eyes..we had several quotes from wanna be patio builders some of which were double the price of D&C, yet our product is first class and looks a treat, we had all the neighbors come to inspect via the canal such is the wonderful patio that D&C built. Cheers D&C Gav & Jaime, Currumbin Waters
Currumbin Waters, Queensland
Our new patio and carport is better than i expected . I highly recommend D and C to anyone who needs a carport or patio. The service was excellent and the installers were such nice guys. We really enjoyed this hassle free build. Thank you Glen.
If you are looking for a company that ticks all the boxes these guys are awesome! They deliver on customer service, quality product and quality workmanship. Our fly over looks amazing, far exceeding our expectations and for the price others were quoting for a basic fly over we got a fully insulated patio. It was installed in 24 hours. I can't recommend this company enough!
Awesome communication all round such a pleasure to have them at my house from the quote too the finished product. The guys on site are probably the best tradesmen i have ever had at my house they went above and beyond in every Avenue. I could not reccomend them enough 11/10
Glen the owner was great. He explained everthing that his company would do in putting up our patio roof. Took pride in the job. His team of men were all professional and happy. It was great to have them around and they clean up the site each day. Thank you we love our patio. Highly recommend D&C patios.
A big thank you to Glen and the D&C carport team. I have to say a job well done. From the time we meet to the finished product we couldn't ask for anymore. You were prompt with the installation and it turned out fantastic. One thing i have to say sorry to the guys for putting up with my dogs . Thanks again guys i would recommend you to all who are looking for a carport. From the Olsson family.
Excellent quality service, friendly helpful people to deal with, special thanks to Glen Shefford and the lovely young chaps who sampled some of my craft beer, highly recommended.
We recently had a flyover patio installed by DC patios. It's not often that my expectations are exceeded but they were on this occasion. The whole process was easy from start to finish. Fantastic quality job. The install guys were very efficient and cleaned up before they left site. Thanks guys.
Really happy that I chose D&C Patios to build my flyover patio recently. They handled our council application smoothly and the office staff kept me up to date throughout the project. The boys onsite were very polite and did and excellent job building it. We had received a few quotes and their price was very competitive for such a quality product. Thank you Glenn & the team!
We recently had our old patio removed and replaced with an insulated new patio by D. & C Patios. The team turned up on time and consistently worked hard on the job. We were happy with the work and effort that they put into it and they were very co-operative with anything that we needed corrected or fixed. We were impressed with the service, how the office communicated with us and kept us informed through the process, the work ethic and attitude of the team. During installation, we observed how they were put under a lot of pressure to meet deadlines and missed some details however they were glad to return and have these rectified. We were also happy with D & C Patios realistic price.
Professional friendly team who pride themselves on quality work.
Awsome job! Glen and all the guys are very professional and polite. HIGHLY RECOMENDED!
Glenn and his crew did an awesome job on our back patio. Was great to deal with from start to finish. We are very very happy with the end result.
Great Company, Steve and Glenn were really friendly, no pressure and build a great quality product. I like dealing direct with the people who plan, erect,build and deliver what they say they are going to with great value. Kept us really well informed which is unusual. Professional.
D & C did a great job on our back patio, side patio and carport. Communication was excellent and they cleaned up the site afterwards really well.
D&C Patios have just completed a patio and carport at my home. They have done a fantastic job and I'm over the moon with them. The staff were professional and friendly and made the whole process run smoothly. Would highly recommend them to anyone looking for a new patio or carport.
Simply complete the form below, and  we'll then review it and get a quote out to you ASAP.