In Queensland, the weather can often hit extremes. Because of this, it is important to find a way to protect your motor vehicles while they're parked outside in your yard. At D&C Patios, we know that Gold Coast carports need to be able to withstand the elements; something which we achieve with solid workmanship and quality design.
Professional Installation
Local Gold Coast Carport Builder
Why Choose D&C Carport Builders on the Gold Coast
If you're on the hunt for a provider to design and install Gold Coast carports, look no further: we offer an efficient and reliable service you can trust. We are local, licensed experts and carport builders with a long history of constructing solid and long-lasting designs in the Queensland area. With us, carport installation is affordable and effective. In addition, we offer you custom designs to suit your individual requirements.
Awesome communication all round such a pleasure to have them at my house from the quote too the finished product. The guys on site are probably the best tradesmen i have ever had at my house they went above and beyond in every Avenue. I could not recommend them enough 11/10
Glen the owner was great. He explained everything that his company would do in putting up our patio roof. Took pride in the job. His team of men were all professional and happy. It was great to have them around and they clean up the site each day. Thank you we love our patio. Highly recommend D&C patios.
We recently had a flyover patio installed by DC patios. It's not often that my expectations are exceeded but they were on this occasion. The whole process was easy from start to finish. Fantastic quality job. The install guys were very efficient and cleaned up before they left site. Thanks guys.
Really happy that I chose D&C Patios to build my flyover patio recently. They handled our council application smoothly and the office staff kept me up to date throughout the project. The boys onsite were very polite and did and excellent job building it. We had received a few quotes and their price was very competitive for such a quality product. Thank you Glenn & the team!
D&C Patios have just completed a patio and carport at my home. They have done a fantastic job and I'm over the moon with them. The staff were professional and friendly and made the whole process run smoothly. Would highly recommend them to anyone looking for a new patio or carport.
5 Tips For Building Your Dream Patio or Carport, Without Breaking The Budget
BONUS GIFT: Get A $250 Voucher inside to use on your next patio or carport!
Our experience in constructing a variety of Gold Coast carport designs means that we understand exactly what is required for this area, and what options are the best choice for protecting your motor vehicles from all kinds of weather.
We know how important your vehicles are to you and your lifestyle. With nearly 50 years of experience in the building industry, you can rely on our exceptional workmanship and honest advice to protect these valuable personal assets.
Our team is also fully licensed with the Queensland Building and Construction Commission. This means that everything we construct will be in line with all necessary municipal and other regulatory requirements
Full Design and Installation Service
The installation and maintenance of carports on the Gold Coast is an important business in this part of Australia. We all know how intense the Queensland sun and local weather can be, so protecting vehicles which are parked outside for most of the day is of utmost importance.
We understand that there are many different companies and options to choose from when it comes to outdoor motor vehicle coverings. This can make selecting the right service provider a bit of a challenge. However, not everyone has the experience and expertise to provide the full design and installation service that we do.
In fact, we provide a full turn-key service to simplify your life. In addition to constructing the physical protective covering that will safely house your car, we will also make sure that it integrates with the design and functional aspects of your home. This makes this valuable piece of protective equipment not just a necessary residential feature, but part of your overall home design.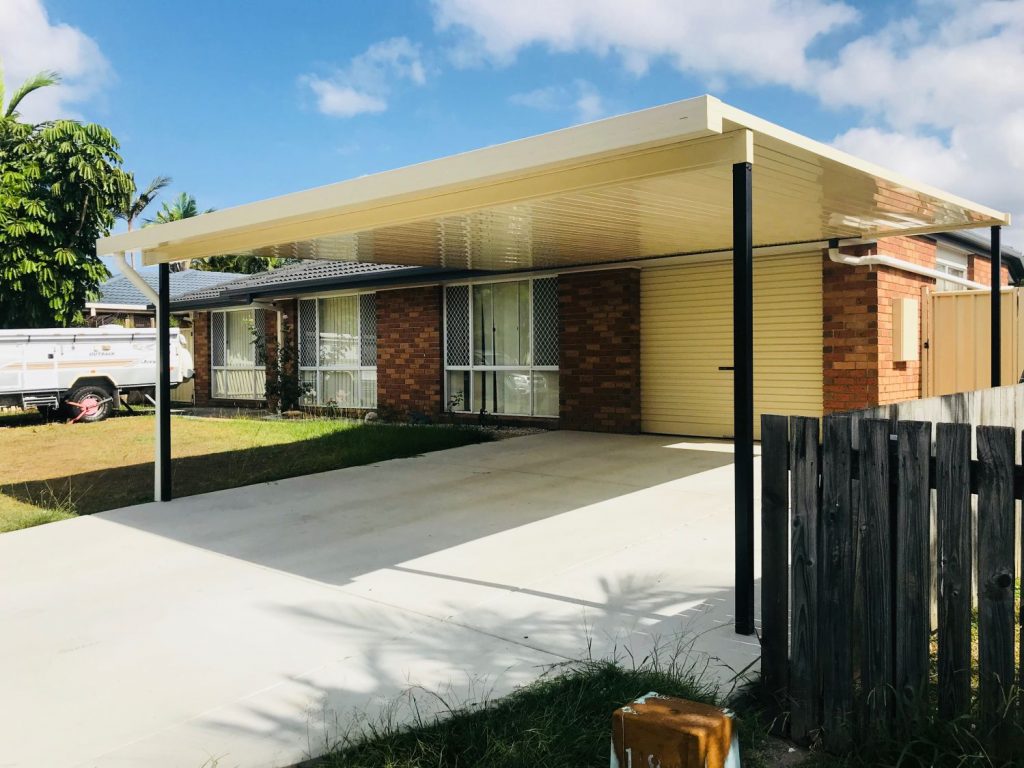 While everybody needs a functional outdoor covering for a motor vehicle on their property, one design will not work for everyone across the board, as every home is different. You also might have a particular preference for a certain look or functional aspect.
However, whether you need a scallion or gabled design, or require a single or insulated roof sheet, we provide a range of different options to suit the individual style of your home. 
Since we've built a number of Gold Coast carports, we know what designs work best in different situations. Factors such as your floor area size, house and gate positioning will influence the design.
With many years in the business, we are also up to date with the latest developments and trends to make sure that you have the most optimum, long-lasting, and affordable end result.
As we all know, adding additional features to your home can be costly. However, at D&C Patios we pride ourselves on offering the most competitive rates in the Queensland area, making this service more affordable for you, our clients.
From years of experience, we have a solid understanding of what is required for projects of this type. This means our team has the knowledge and expertise to collate all of the costs involved to make sure that you get the most affordable offer upfront.
We guarantee you a fixed price upfront, so you know exactly what you are getting yourself in for before starting the project. We also offer interest-free payment plans up to 36 months should you need that extra cash flow available.
Contact us today for your Gold Coast carports installation – we offer unparalleled service from a professional team at the best price!
Get Your Online Patio Or Carport Quote
Tell us more about your carport needs. We'll get back to you within 24 hours