Carport Builders Brisbane
D&C Patios are bespoke Brisbane carport builders who specialise in creating structures to withstand the extreme Queensland weather. With nearly half a century in the industry, we have the experience and expertise to craft reliable, durable constructions that will effectively protect your vehicles and personal property when left undercover.
Professional Installation
The best carports in Brisbane Southside
Why Choose D&C Carport Builders in Brisbane
At D&C Patios, we build resilient and sturdy carports that will protect your property. Not only do we provide long-lasting designs, but we also offer them at affordable prices. Our plans are custom to every home we work on so that they're seamlessly integrated with your house.
Awesome communication all round such a pleasure to have them at my house from the quote too the finished product. The guys on site are probably the best tradesmen i have ever had at my house they went above and beyond in every Avenue. I could not recommend them enough 11/10
Glen the owner was great. He explained everything that his company would do in putting up our patio roof. Took pride in the job. His team of men were all professional and happy. It was great to have them around and they clean up the site each day. Thank you we love our patio. Highly recommend D&C patios.
We recently had a flyover patio installed by DC patios. It's not often that my expectations are exceeded but they were on this occasion. The whole process was easy from start to finish. Fantastic quality job. The install guys were very efficient and cleaned up before they left site. Thanks guys.
Really happy that I chose D&C Patios to build my flyover patio recently. They handled our council application smoothly and the office staff kept me up to date throughout the project. The boys onsite were very polite and did and excellent job building it. We had received a few quotes and their price was very competitive for such a quality product. Thank you Glenn & the team!
D&C Patios have just completed a patio and carport at my home. They have done a fantastic job and I'm over the moon with them. The staff were professional and friendly and made the whole process run smoothly. Would highly recommend them to anyone looking for a new patio or carport.
5 Tips For Building Your Dream Patio or Carport, Without Breaking The Budget
BONUS GIFT: Get A $250 Voucher inside to use on your next patio or carport!
Our experience in constructing various carports in the Brisbane southside area has enhanced our understanding of what exactly is required in this area. We always select material options that make sense when building carports that need to stand up to intense Queensland sun and extreme rainfall and hail. We know how to protect vehicles and other belongings from all forms of weather while providing a visually appealing structure that will look great.
When it comes to our customers' cars, we don't mess around. D&C Patios has nearly 50 years of experience in the building industry, and we've built up our reputation of exceptional workmanship and honest advice by doing a good job, every time. Our team is fully licensed with the Queensland Building and Construction Commission, and all of our projects are built in line with necessary municipal and regulatory requirements.
Building and Design Services
As one of the leading carport builders Brisbane wide, we offer customisable and bespoke designs to our clients. You can choose the style and colour options for every piece of your carport to emphasise your home features and ensure the new structure blends with the old. Whether you want a scallion or gabled design or want to choose from a single or insulated roof sheet, we have something for everyone.
Our qualified builders create a protective covering for your vehicle. We make sure that your carport is structurally integrated with the design of your home. This will increase the value of your house as well as creating crucial curb appeal. While a carport is a functional piece of protection for your belongings, it will also become a part of your overall home design that you need to be happy with for years to come.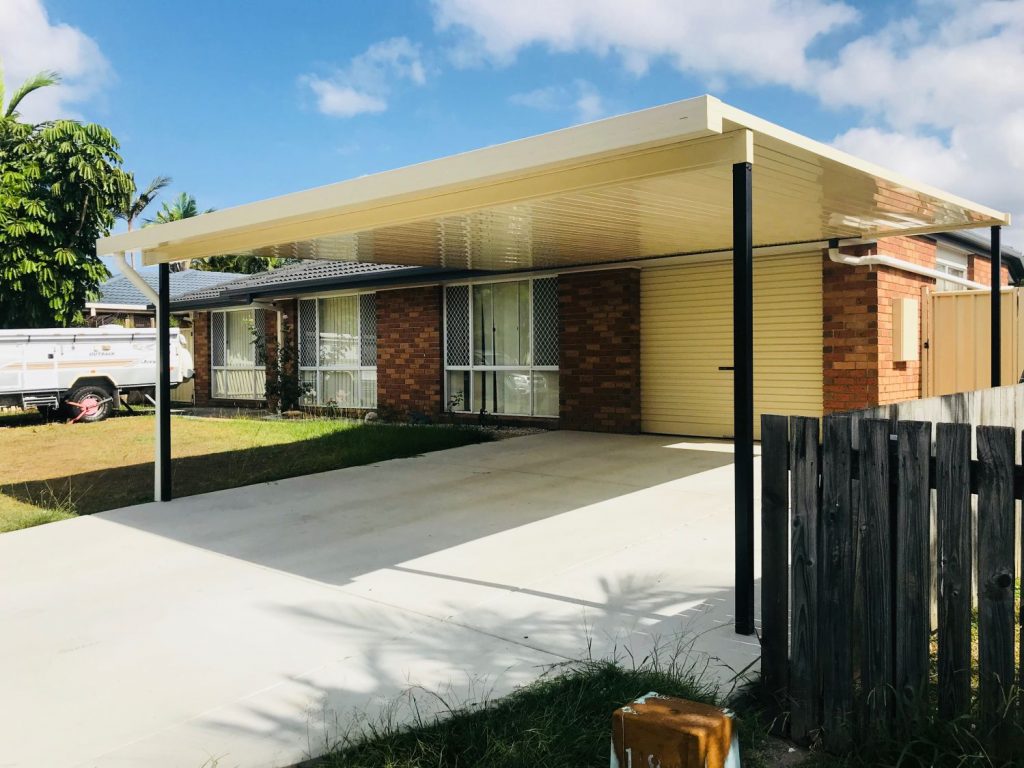 We offer our custom-designed carports and patios at affordable prices to ensure they're accessible to all Queenslanders. We have an experienced team of installers who have been quoting carports for years and are skilled at creating estimates. Once we offer a quote, that is a fixed price that our clients can count on for their project duration. Our fixed price guarantee comes alongside our offer of interest-free payment plans of up to 36 months. If you're looking for carport builders in Brisbane, get in touch with D&C Patios today for professional service and competitive pricing.
Get Your Online Patio Or Carport Quote
Tell us more about your carport needs. We'll get back to you within 24 hours