Grab Your FREE Icey-Tek Esky!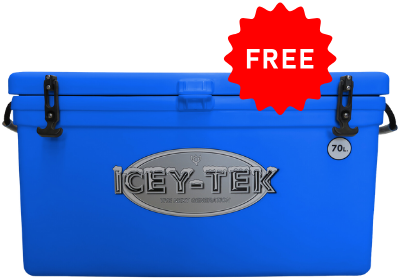 Here are the exciting details: 
For the rest of January, (time is ticking), you have an opportunity to win a 'cool' (literally) prize simply for doing business with us at D&C Patios.  
How does it work?
It's really simple, but first, let me tell you what we want to send you as your special FREE gift!  
We H
ave 
an Amazing 7
0-Litre Long-box 
Fisherman Esky We Want to Give You F
or 
FREE
.
And "YES", keep reading to see how you can get more than one of these… 
All you have to do to receive one of these durable fisherman-quality iceboxes is order a patio or carport over $5,000 for the month of January 2020.  
What Makes This Amazing Longbox Esky So Special? 
Here's the story… 3 friends came up with the idea of creating a polyethylene icebox that had the same ice retention capabilities as a fibreglass icebox.  
 Not only that, they wanted something that was more rugged, durable and able to be thrown around or even jumped on. Perfect for camping! 
When you receive yours, you'll instantly see that these are NOT the cheap-and-nasty imported quality you see in Kmart. Not even close. These are the 'real-deal' quality used by professional Fisherman. And they keep ice for days! 
How To Get More Than One Of These Esky's for Free
!
 The number of these you can claim is only limited to how much you spend on your patio or carport. For example… 
Order a patio over $5,000 you get 1 x 70-Litre Esky

 (valued at $357.50)

Order a patio over $10,000 you get 2 x 70-Litre Esky's

 (valued at $715.00)

Order a patio over $15,000 and get 3 x 70-Litre Esky's

  (valued at $1072.50)
And so on… It's that simple. But you must get your orders in before January 31st 2020 or you'll miss out. 
Now, to claim your free Esky (or Esky's) all you need to do is order an onsite quote for a new patio or carport, by the end of January and when we install your new patio, we'll drop off your brand new esky.
The next step is easy. To have a chance 
to get one (or more) of these quality iceboxes, all you have to do is simply pick up the phone and call your order through or fill in the form below and request a free on-site quote now. 
To qualify you simply have to order your onsite quote before the 31st of January. Even if you don't install your new patio until later in the year.  You will still get the Esky as long as your first contact with D&C Patios (via phone or email) is before the expiry date – You still qualify! …so, order now!
P.S There might be a 'cool' surprise inside the esky when we deliver it. Some people might 'guess' it's a carton of beer. But, I can't confirm or deny because it'll ruin the surprise, right?
Anyway. Best you pick up the phone or complete the form below and get your order in to find out yourself
Get A Patio Quote Now & Secure Your Esky
Simply give us a call right now…
Or option #2: complete the form below.