There are several patio and carport types when planning out the addition to your property. D&C Patios wanted to debunk the buzz around four types that we specialise in typically as basic patio or carport models.
The considerations you need to take into account are requirements that might add additional costs to your overall project – i.e. some structures might need posts on both sides of the structure, while others only on one side. They may need footings which would mean longer posts are required and therefore extra costs involved.
Our team at D&C Patios will ensure that you're advised correctly on the design of the patio or carport that will suit your home and needs the best, and what will add the most value to your property. 
The four types we specialise in are as follows:
1. FLYOVER
The Flyover sits above your current roofline and guttering attached to the roof over the house frame. Naturally, covering the existing guttering of the house, it would require additional guttering off the far side of the structure – although it would not impact the usability of the existing roof guttering when it rains.
2. FREESTANDING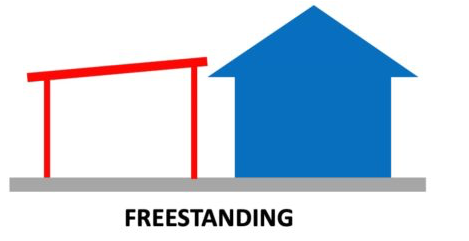 Freestanding, as it would indicate, is a fully freestanding structure. Although the figure shows it right next to the house, it could be built in the backyard, front or side yard as a "freestanding" structure with posts required on all four corners and in the middle if large enough.
3. ATTACHED SKILLION
The Attached Skillion is attached flush to the side of the house underneath the existing guttering or wall. It creates a neat look externally and as a patio, from an outdoor perspective, is probably the most useful in terms of outdoor entertaining should inclement weather impact your area. 
4. GABLE – ATTACHED OR FREESTANDING
The major feature of the Gabled carport or patio is a classic pitched roof on two sides and a triangular flat face on the ends. If you are looking for the ultimate airy patio, the raised roof offers that additional airflow and also delivers a spacious feeling. A Gable patio or carport can be attached to the side of the house, or be built as a freestanding structure – the best of both worlds! It can also be a flyover to gain extra height and have electrics installed in the beams.
As you can see, the various options will depend on how your existing house has been constructed – some options will suit certain external house designs better than others.
Plan what you think is going to work best for you and our team at D&C Patios will advise once we've had the opportunity to assess your place and provide you with your obligation free quote.
Contact our team at D&C Patios on the phone, through our website – www.dcpatios.com.au or email admin@dcpatios.com.au. Our website outlines many of the options available to you!